Monday, March 5th, 2007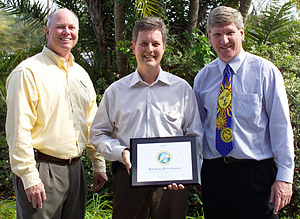 Tom Hopkins, Animal Operations Area Director at Walt Disney World Co. (left), and Paul Allen, Chief Energy Management Engineer at Reedy Creek Energy Services (center), accept the Energy Achievement Award presented by Jim Fenton, Director of FSEC.
At last week's Policy Advisory Board Meeting of the Florida Solar Energy Center/University of Central Florida, Center Director Jim Fenton presented the Florida Energy Achievement Award to Paul Allen, representing Walt Disney World Company and its "Strive for Five" energy reduction program. The Florida Energy Achievement Award is presented annually to an entity that demonstrates statewide leadership and significant achievement in sustainability and energy savings in Florida. Fenton commented, "Choosing the winner of this year's competition was especially hard, because we had a number of high-quality applications from private companies and utilities who are conducting energy-saving programs in the state and achieving significant results. Our committee felt, though, that Disney's innovative company-wide program designed to reduce overall energy consumption by 5 percent by involving everyone from management to cast members stood out because of its wide impact as well as its individual components."
Allen later presented an overview of the program "How Disney Saves Energy (Hint: It's Not Magic)" in a presentation to the board and FSEC staff members. Paul Allen is Chief Engineer of Energy Management at Reedy Creek Energy Services, which provides electricity, water and fire service to Disney World. Allen described the development of the program, designed to respond to Disney management concerns about the energy consumption and the need to reduce energy usage. Called "Strive for Five," the program involves all levels of employees in the company's goal to reduce energy usage by 5 percent.
Energy-reducing strategies have measurement as their basis. By measuring usage in various areas and departments and presenting it in an easy-to-read format, all employees can see what is happening: how much energy is used, if it is more or less than the previous period of measurement. Allen said that when everyone in the company is looking at results, each department is motivated to do its best. Walt Disney World Company uses Utility Report Cards (http://utilityreportcards.com), a database-supported reporting system which exhibits many statistics showing how much electricity is being used and some of the factors that have impacted the usage. Disney's innovative company-wide program is designed to reduce overall energy consumption by 5 percent by involving everyone from management to cast members-a facility-wide effort.
To read more about how Disney saves energy, click here (

255KB).
Please follow and like us: